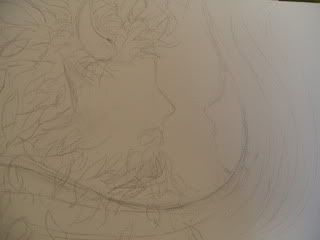 Hello everyone! With all the random illness that has been plaguing us at the moment there has been little time or motivation for creative endeavours, though I do have some new bits to share with you. As well as an abstract piece that I am working on at the moment, and will post about soon, I began this canvas the other day. It's only sketched out in charcoal at the moment, but you get the idea... it's the God and Goddess in 'Balance' using my view of my patrons Pan and Arianrhod. The sweep of her cloak will go around the bottom with leaves and bits overlapping and balancing the composition. I'm not sure how the faces will turn out... they may end up being featureless as I'm really not that great with doing them but I'll let myself be guided as I paint.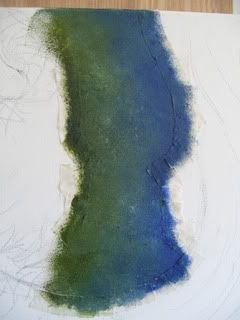 This is the space between their faces. I wanted the background 'energy' of both of them to sort of blend and fuse together. The crisp lines of their portrait have been taped off here as I wanted to sponge the background on, plus I paint with oils which take a notoriously long time to dry, great when I want to rework areas again and again... not so great when I don't. This should be an interesting project for me as I generally work with extremely abstract forms and compositions but so far so good, I'm hoping to get a decent bit of work done on it over the weekend... it seems a very fitting painting to be working on over and around Beltane.
I have also been working on the making of a little faery door out of recycled cardboard and odds and sods from my craft drawer... it's nearly finished and I'll post about that too either here or on
my main blog
, or both at a later date.
Here's hoping you all have a great weekend and very blessed Beltane x